Non-Ferrous Scrap Metal Recycling
Posted on 15 April 2021
With scrap metal recycling, there's sometimes confusion between the metals that are ferrous and the ones that are non-ferrous. The difference is quite simple – ferrous metals are the ones that contain iron, and non-ferrous are the metals that do not. Both metal types have their own unique qualities.
While most scrap yards in Toronto collect both types of metals, there's always varying demand for each type, and therefore prices fluctuate. Many non-ferrous metals can be found in household waste, although high volumes are typically found in building construction waste and industrial waste.
Non-Ferrous Metals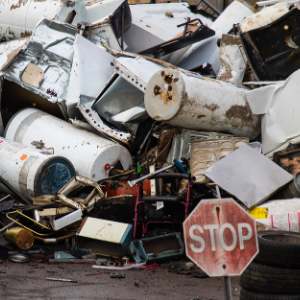 Non-ferrous metals don't contain any iron, so they are far more corrosion-resistant than ferrous metals. The non-ferrous metals are known to be pliable and lightweight, therefore making them versatile for many applications.
Non-ferrous metal types like aluminum and copper are ideal for industrial applications and are often used in roofing materials, plumbing pipes, and electrical wiring. Physical properties will vary greatly from metal to metal.
Aluminum: it's lightweight and very highly recyclable
Copper: it's an excellent metal for electrical conductivity
Tin: it's often used to coat steel to prevent any corrosion
Today, with so much focus on the environment, non-ferrous metals are particularly important to scrap yards in Toronto. These metals are ideal for recovery, recycling, processing, and re-manufacturing.
The Recycling Process
With metals like aluminum and copper, scrap yards will pay the highest price for materials that are clean and properly separated. Whether around the house or on a construction site, properly separated scrap metal will be worth more than a hodge-podge of scrap metal waste.
Needless to say, one of the primary benefits of metal recycling is the re-use and re-manufacture of materials. This, of course, reduces the mining and processing of valuable "virgin" materials. More than that, recycling will prevent waste metals from unnecessarily filling up local landfill sites.
Tal Metal Specializes
As one of the leading scrap yards in Toronto, Tal Metal specializes in collecting and recycling non-ferrous metals. Whether it's in the form of household scrap or high volume scrap from industrial waste, we make every effort to offer our customers competitive prices.
For homeowners in Toronto, scrap metal can generate quick cash. Inside and outside the home, all types of scrap metal can be easily assembled and recycled for cash. Copper, aluminum, and brass can be found in the basement, garage, and garden shed.
Scrap Metal Pick Up
Tal Metal provides convenient scrap metal pick up throughout the GTA. We specialize in a range of non-ferrous metals and service residential and commercial customers alike. Our pick-up service is a convenient option for collecting and preparing scrap metal.
During the pandemic, Tal Metal follows appropriate physical distancing rules to ensure the health and safety of customers and employees. Depending on the quality and volume of the material we collect, we try to offer our customers the best possible market prices.
Find out more about our scrap metal pick-up service by calling one of our recycling specialists at 905-660-7081 or visit our website at https://www.talmetal.ca.