Scrap Metal in Mississauga
Posted on 13 March 2015
The greatest potential for financial payoff in scrap collection is scrap metal that is in high demand. For those collecting scrap metal as a business (or part-time business) high demand scrap will deliver the best prices. Copper, aluminum, and iron are the most common scrap metals, and are usually in demand by dealers. But it's very important for the collector to keep a close eye on metal pricing, and to always be on top of the trends. For scrap metal in Mississauga, local yards like Tal Metal Recycling will pay the best price for scrap metal that is cleaned, separated and sorted.
Scrap Metal Dealers Buy Your Scrap Metal & You Walk Out with Cash
Scrap dealers like Tal Metal Recycling do it all under one roof: they buy scrap metal of all types; they do some processing, depending on the quality of the material; and they routinely offer competitive prices, based on current market fluctuations. The truth is, the Internet is an excellent information source for scrap metal prices, and the more a collector knows, the better. It's absolutely critical to know which scrap metal is in demand, and what the various dealers are paying. Indeed, making good money with scrap metal is wholly dependent on selling at the highest price.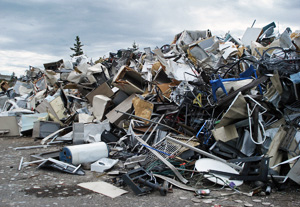 For example, non-ferrous metals (non-magnetic metals) are generally worth more than the ferrous metals – they should be the primary focus for the scrap metal collector. However, beyond the scrap value and the selling price, other factors are also important: the quantity of scrap metal collected; timely and reliable delivery to the dealer; and long-term supply potential. It means that the serious collector must be fully committed to the fundamentals: always finding new sources of scrap metal; sorting and separating scrap for quality control; and ensuring reliable supply for the dealer.
Household Materials that Count as Scrap Metal
The good news for collectors is that scrap metal is readily available. Old, white appliances, such as washers and dryers, are particularly valuable – they contain sheet metal, but they also have copper wiring inside the motor – and copper is the most valuable of all metals. Another source of scrap metal is automobile scrap, which contains valuable amounts of steel, aluminum, and copper. Once again, it's more profitable for the collector to sort and separate everything properly in order to get the best price. The more work for the dealer, the lower the price.
For scrap metal in Mississauga, Tal Metal Recycling provides a wide range of services: we receive and collect metals of all kinds; we manage and process those metals; and we recycle and distribute throughout the region. All things considered, metal recycling is very much a "supply and demand" business for everyone concerned, and for the most part, it's a "bottom line" endeavour. But the other benefits of recycling are also important: many tons of scrap metal is redirected from landfill; mining of virgin ores is reduced; and overall, air and water pollution are diminished.
At the end of the day, for scrap collectors in Mississauga and throughout the Region of Peel, it's all about collecting, sorting and selling at the best possible price.
Environmental Benefits of Recycling Scrap Metal in Mississauga
When it comes to being eco-friendly and recycling, the average household routinely recycles paper, plastic, glass and metal cans. In residential buildings and houses, this has pretty much become commonplace.
But all too often, the average consumer will still place small machines and equipment containing valuable scrap metal in the garbage pile. Without realizing it, they're missing out on the opportunity to not only earn a bit of extra household income by delivering these items to a local scrap yard—but they're also inadvertently adding to the landfill.
That's why the team at Tal Metal Inc. make is easy for residential consumers to deliver their scrap metal in Mississauga.
Household scrap is practically everywhere and recycling that scrap metal is one of the best things consumers can do to be environmentally friendly.
Reduce Greenhouse Gas and Energy Waste
As we all know—recycling and re-using are positive things that we can all do to help the environment.
Recycling scrap metal saves energy and helps reduce the production of greenhouse gases including carbon dioxide. Instead of having to create new metals, emitting tons of greenhouse gas is avoided by recycling. By using recycled raw materials, smelter factories can make large cost savings.
Every step counts and makes a giant impact on the environment. But there's still a long way to go in terms of cutting down on our carbon footprint. That's why all residential households should put just as much emphasis in recycling scrap metal as they do on recycling paper and plastic items.
When it comes to scrap metal in Mississauga, local residents can deliver their metal for recycling to Tal Metal Inc.
What Can Scrap Metal Be Used for?
Aside from being environmental beneficial—you may be wondering what scrap metal can be used for. What can possibly become of your old iron pan, old lawn mower, or even your old freezer?
The process of recycling scrap mental into new items is quite complex. But to describe the process in the simplest terms: the metal is separated into different types—aluminum, copper, iron, steel, etc. Then it's decontaminated. Then at the mill, the recycled material is manufactured into new raw material such as sheet metal, pipping or beams.
As one of the biggest collectors of scrap metal in Mississauga, Tal Metal Inc. knows this process inside and out.
The raw material can get manufactured into beverage cans, filing cabinets, home appliances and even metal furniture. On a larger scale, scrap metal can also be manufactured and used in cars, planes, buildings and railway construction.
Customers throughout Peel Region can rely on Tal Metal Inc. to manage their scrap metal in Mississauga.
Where Can Scrap Metal Can Be Found in Your Home?
You'd be surprised at how much scrap metal can be found in the average home. All you have to do is look. Old iron pans in the kitchen, steel shelving in the laundry room, old lawn mowers in the garden shed, old swing sets in the backyard, even iron railings that have been replaced.
Even air conditioners, freezer units, old washers and dryers can be considered as great candidates for scrap recycling.
Don't bother dumping your scrap metal into landfills and adding to the problem of garbage overflow. Tal Metal Inc. collects, segregates and recycles residential scrap metal. In fact, they're one of the biggest collectors of scrap metal in Mississauga, contact Tal Metal at (905) 660-7081 for more details on metal recycling!