4 Reasons to Recycle Your Scrap Metal
Posted on 19 February 2021
It is hard to believe, but even with so much scrap metal recycling going on, there's still scrap metal going to landfills. The fact is, it can all be very efficiently redirected from landfill sites to recycling facilities.
Scrap metal has tremendous potential for remanufacturing into new products, thus avoiding the need for mining and processing. Whether it's residential or commercial scrap, waste metal is all around.
At Tal Metal, we deal with scrap metal types and currently offer our clients FREE scrap metal pick-up. Some of our higher-demand scrap metals can generate some easy cash once collected.
Good Reasons to Recycle Metal
Metal recycling is critical in reducing the reliance on landfill sites. The problem is that even after reducing, reusing, and recycling, there is still plenty of waste. The good news is that scrap metal recycling offers a host of benefits to everyone.
1. Saving Valuable Energy
Many metals can be recycled over and over again without losing integrity. This saves valuable energy on the mining, processing, and manufacturing of virgin material. More than that, the entire recycling stream uses far less energy than starting from scratch.
2. Less Reliance on Resources
Like all other natural resources, virgin metal ore is finite and therefore limited. Needless to say, the more metal is mined from the ground, the less there is leftover. Scrap metal recycling is simply about preserving (or maintaining) the natural resources.
3. Many Environmental Benefits
Mining, processing, and manufacturing virgin ore generates huge emissions around the world. There is no question that the recycling process generates far fewer emissions, meaning that less carbon dioxide and less greenhouse gasses are emitted in total.
4. Financial Benefits / Payoffs
For residential homeowners and business owners, scrap metal recycling can generate extra cash quite quickly. In particular, building and construction businesses with high volumes of scrap can generate considerable cash with good quality scrap metal.
Tal Metal Provides Scrap Metal Pick Up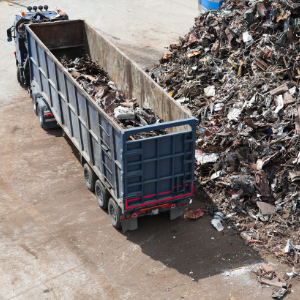 In Toronto and throughout the GTA, Tal Metal provides convenient pickup services for both residential and commercial customers. We follow appropriate physical distancing measures to ensure our customer's and workers' safety during these pandemic times. Our prices for scrap metal are competitive, all depending on the quality of material supplied – we make every effort to offer the best possible market prices.
For All Your Scrap Metal Recycling Needs Count On The Professionals at Tal Metal
Tal Metal specializes in a wide range of "non-ferrous" metals such as copper, aluminum, and brass. With our scrap metal pick-up service, we're providing an efficient and convenient way for customers to collect and assemble their scrap metal.
During the current COVID-19 pandemic, we continue to offer all of our recycling services in Toronto and throughout the GTA. We are taking all of the necessary precautions and social distancing measures to assure maximum safety.
Learn more about Tal Metal by visiting our company website at https://www.talmetal.ca or call 905-660-7081 directly and speak with one of our recycling specialists.